Ovalert testimonial
Other farmers about Ovalert
Ovalert detects and identifies health and fertility signals earlier and more effectively than the human eye. With Ovalert you will gain more profit in every stage of the production cycle and it increases profitability with precision.

Read the experience of Craig Galbraith with Ovalert below.
"We can now allocate our time to cows that really need it"
Installing a heat-detection system to reduce the labour required to spot cows in heat has not only helped to tighten calving interval, but also resulted in more targeted cow management.
Heat detection rates have, as hoped, improved since Cumbria-based producer Craig Galbraith installed an activity monitoring system. But he's also experienced the benefits of identifying
health issues before symptoms can be detected by eye. Craig manages his family's 110-cow Ayrshire red-andwhite Holstein cross herd, plus 70 followers, in partnership with his parents David and Carol. The Kendal-based herd is calved in an autumn block – from September to December – predominantly because this system suits the farm. "We used to calve all year round, with a slightly larger group calving later in the year. We noticed that those cows in the later block performed better so we decided to move to autumn block calving," explains Craig.
This put more focus on heat detection as a key part of achieving a tight calving block. Until 2017, though, it was something they did by eye. "Our calving interval was OK, running at between 380 and 390 days. But it required a lot of time and effort to keep it there and we knew it could be better."
"We can now allocate our time to cows that really need it"
Craig Galbraith
Breeding goals
His introduction to Ovalert, CRV's automatic heatdetection system, was through breeding consultant Alan Mason. Craig uses CRV's Sirematch program, with Alan's help, to achieving the breeding goals he and Alan set for the herd. "We've been using Sirematch to select the most suitable sires to use on our herd for six years. We're looking to breed medium-sized cows with good milk
components and fertility. It's a way of making sure we also breed for good type," he adds. "Alan suggested we install the system because I told him that heat detection, although good, was taking a lot of time and effort." Since installing the collar-based activity monitoring and heat detection system, calving interval has improved and runs closer to 365 days. "This is
essential for a block-calving herd but also better for our bottom line. And all without additional work.

"In fact, the automated system means there's less heat detection work for us," says Craig. Another notable difference is that if the vet sees a cow because she's not been seen bulling, she does have a genuine fertility issue and isn't cycling. "It's not that we've just missed her signs of bulling. The system picks up these cows now, which also underlines that the system is working." Craig, who's just coming out of his third winterservice
period using the system, is also pleased with the rumination information generated by the collars. "We didn't really consider that when we first installed the system. We were focused on heat detection. Now that's 'under control', we're able to appreciate the additional monitoring benefits of the cow-monitoring technology."
Farm profile
Farm ownder

Craig Galbraith in
partnership with his parents David and Carol.
Location
Cumbria, UK
No of cows
110 cows
Breed
Ayrshire red-andwhite
Holstein cross
Average production
7.500 litres milk, 4.30% fat and 3.20% protein
About Ovalert
The Ovalert heat detection system works 24 hours a day. Ovalert does much more than simply measure activity. As a farmer, you can easily monitor the performance of the whole herd about eating, rumination and inactivity. It makes your herd more efficient and easier to manage.
Cow welfare
He says E coli mastitis is picked up at least one milking earlier: "The system alerts us if a cow's feed intake, rumination or activity drops – the first signs that something is wrong. And that's our signal to take a closer look at that cow immediately. We're picking up mastitis and other issues much quicker, and faster diagnosis and treatment means improved cow welfare and outcomes."
Collars are fitted to maiden heifers at between 12 and 13 months old and they wear them throughout their life. "That's because these collars are not just about heat detection – we can see that now. The data helps us manage the herd and individual cows throughout the production cycle, during lactation, as well as the dry period and through transition. If activity or rumination deviates from the norm for an individual cow or heifer, we're alerted. And we can direct our attention to the cattle that need it. It's helping us to Collars are fitted to manage the herd more efficiently. And we're seeing improvements all round."
Herd average yield is 7,500 litres, at 4.3% butterfat and 3.2% protein, and milk is sold to Kendal-based Dale Farm. The herd is fed a partial TMR comprising grass silage, bought-in whole crop wheat and a blend. Cows are then topped up to yield with concentrates in the unit's 14:14 herringbone parlour.
Craig says that Ovalert, which runs on a Cloud-based system, sends reports to his mobile phone. "And there's also an LED light in the farm office, which will flash if there's a notice from the system that I need to check. So I don't have anxiety about missing notices. If there's something I need to see, I'll receive an alert."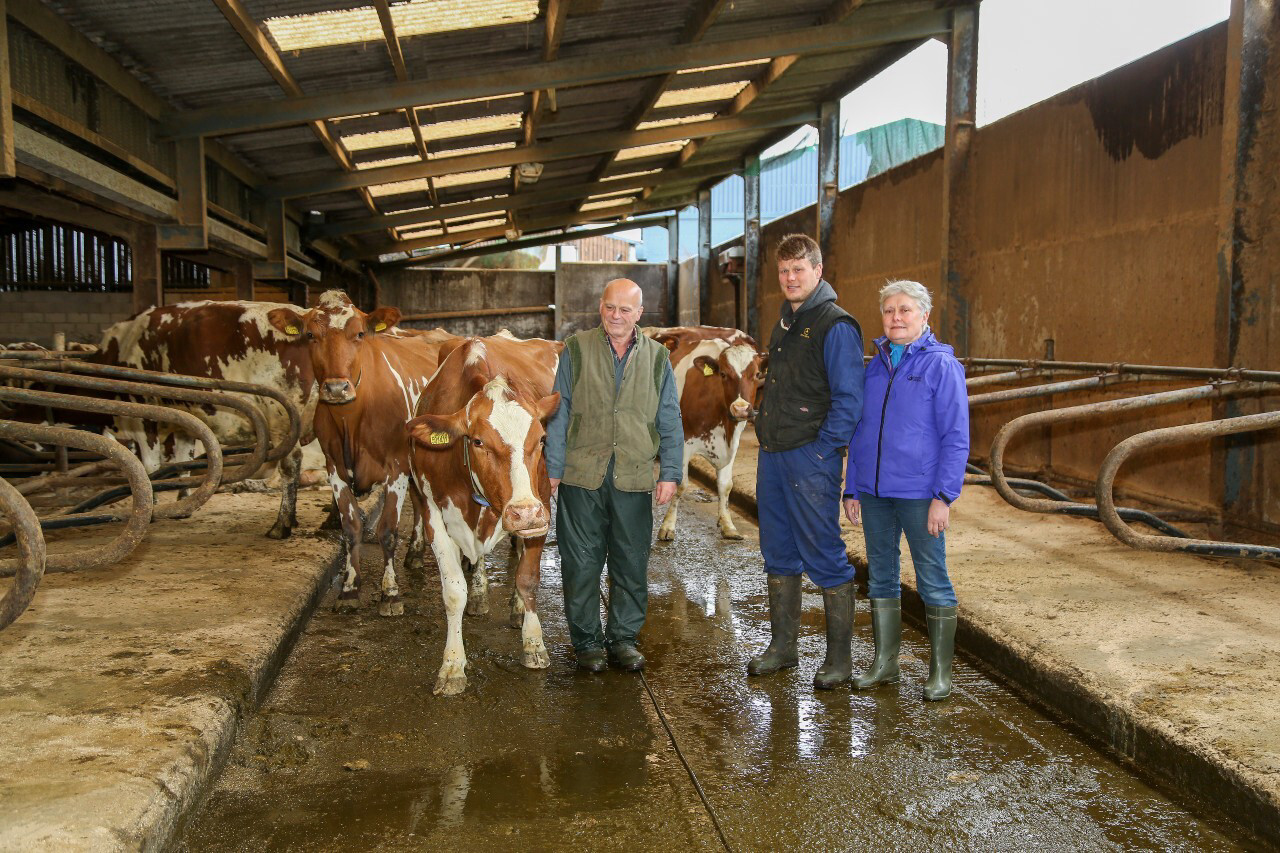 Embracing change with added health benefits
He says he went with this system due to the back up and support offered by CRV. "We'd had such a good experience with Sirematch and we've not been disappointed by the heat-detection system." He adds that it's simple to use and compatible with Uniform Agri, which means it links with his milk records, parlour and dairy herd management system. "It was up and running in no time and we had no teething problems. It just got on and did its job and allowed us to serve cows on time and achieve a tighter block.
"For us, it's very much about the time we're saving and that we're better able to target the use of our time to the cows that really need it. It's an extra pair of eyes on the herd – and is able to detect health and fertility issues before they're visible to the human eye." |
Interested in Ovalert?
Are you interested in Ovalert or would you like some more information? Find a representative in your region or request more information via our contact form.